| | |
| --- | --- |
| Diary of a Global Nomad! | |
---
[Last updated: 26-Mar-2021]
I must have been about 8 years old at the time, at junior school. During a specific geography lesson, the teacher, who was from New Zealand, told us about his home country, assisted with illustrations. One of his illustrations was of a large mountain, with snow on top, and sheep grazing on the lower green slopes; an image had been dormant in my mind for many years. All very interesting, but I never knew how, when, or if my dream would ever become reality!
Never say "Never"! An opportunity presented itself during a chance discussion in 1993. Looking back, I believe that it was meant to be: I was meant to have been inspired by that geography teacher and his lesson. The seed was sown! A spark to a dream, that actually became a reality many years later; part of my life's path!
These pages are an electronic version of a paper journal/diary that I kept (as best I could) during a round-the-world "voyage of discovery", made between Jun-1993 and Nov-1993, the origin of which, as I have written, originated back to that geography lesson!
After having worked in Belgium, at S.W.I.F.T. SCRL (the Society for Worldwide Interbank Financial Telecommunication) in La Hulpe for nine months, I experienced a period of approximately sixteen months without employment (between Mar-1992 and Jun-1993). As much as I tried, employment evaded me during that period.
Over the 1992 Christmas holiday, I was in what was my then local bar (The Drum, Avenue d'Auderghem, in Bruxelles), when the conversation turned to someone's recent holiday to Indonesia. Knowing my situation, I was asked "Why don't you go around the world?" My reply was something along the lines of "No, I don't want to do a stupid thing like that!"
Four months later (Easter 1993), I spent a few days in the U.K., visiting a friend of the family. She knew of my situation and simply asked "What do you really want to do, Martin?" After a few minutes of thought, I simply replied "I want to travel." I spent that night at my parent's home and awoke the following morning with the inspiration and desire to go around the world (very much to my surprise)! I had to eat the words I said last Christmas in Bruxelles!
With the idea fresh in my mind, I still wasn't fully sure whether I wanted to commit to travel the world. I made an appointment to visit my (then) accountant, in Petworth, for information about either possibly closing down my limited comapany, or keeping it open. What were the pros and cons of either. There were other questions too. However, as events turned out, there was no need for them to be answered!
On the day of the appointment, at about 15:30, it was end of the school day. The cars in front of me had stopped to allow school children to cross the road. Upon looking into my rear-view mirror, I noticed a car approaching, but was not slowing down! The driver's attention was to his right, (presumably) towards the children, most of which were girls, coming out of the school gate! Well, one doesn't need to be a rocket scientist to imagine what was about to happen! And it did! At the very last minute he saw that the cars in front of him (including me) were not moving and there was a screech of tyres on the road, as he applied the brakes - but too late! Because of his speed, he drove into the rear of my (French-registered) car, shunting me into the rear of the car in front of me!
An amazing thing happened to me at the exact moment of impact. Irrespective of the severity of the Road Traffic Accident (RTA), I immediately decided 100% to go around the world and close the company! The accident was meant to happen, to 'force' my decision! It was a catalyst (or trigger) for me to make definite plans to go and see the world! Needless to say, because my car was immobilised, I never arrived at the accountant's office! The car was transported back to Hermitage, near Newbury, for repairs, and the paperwork to close my company was eventually completed over the phone and by post.
Notes:
All photographs were taken on 35mm colour film (before the common use of digital cameras and smart phones). Although I took approximately 300 photographs throughout my trip, I have included as many as possible. The photos illustrated here have been scanned from original paper photographs, thus their quality isn't the best.
Click each thumbnail image to see a larger version (in a new tab/window), having a resolution of 1024 x 768 pixels (Super VGA (SVGA)).
The Sterling (GBP) currency equivalents shown throughout these pages are to the nearest penny and are based on exchange rates prevailing at the time of the transaction.
Currency codes are as per ISO 4217.
Although I didn't need to, I have included the times (when known) when a particular event happened. I found it helped in pin-pointing a particular photograph.
I am grateful to the existance of Google Earth (and in particular, it's Street View option) and GeoSetter, without which, I would not have been able to identify, locate, and geo-tag most of the photographs.
---
So started the planning of my next 'journey of a lifetime'! I started creating a list of places/countries to visit. From that memorable lesson at school, New Zealand was obviously the first on the list. What lies in between? A member of the Bruxelles group (Skippy) was Australian. With the money he was earning in Europe, he was having a house built in his home town of Brisbane, which was being managed by his parents (who I had previously met when they visited Europe). He expected the house to be finished during the summer of 1993, and said that I could help his parents with the removals if/when I passed through! Hence, Brisbane was added to the list!
Two years earlier (in 1991), I visited a distant Canadian cousin, living in Toronto, and wanting to visit her again, decided that Toronto would be the next entry on the list. Where else would I like to visit?
My first port-of-call was going to be Egypt, to see the Sphinx and the Great Pyramids etc., but that changed in favour of the far east, as I wanted to visit Hong Kong before it was handed back to China (in 1997). From there, I could easily travel south to New Zealand, through Thailand, Malaysia, Singapore, Indonesia and Australia.
Although there are many islands across the Pacific Ocean that I could have chosen to visit on my way 'back up', I took the most direct route to Los Angeles, via Fiji and Hawaii. From Los Angeles, my route took me over the Yosemite National Park to Vancouver, then to Vancouver Island, Toronto and New York, and finally back to the United Kingdom; see Figure 1. The red spheres show the main centres of the places I visited and are also links to the corresponding page.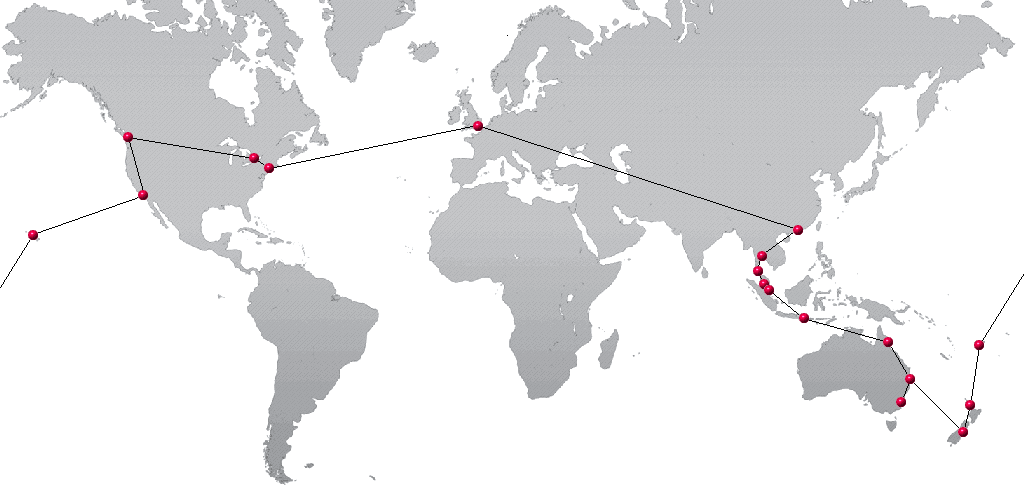 Figure 1: Interactive Route of my Journey
I made several trips to Trailfinders in Kensington High Street, London, to obtain the necessary information from the experts on: innoculations, visas, required clothing, etc. At the beginning of June 1993, I made my final trip to Kensington to book my flights. It was a very surprising visit, because when I showed my planned route to the travel specialist (starting with a flight from London to Hong Kong), she asked:
"When do you intend starting your travels?"
"In three weeks time; at the end of the month" I replied.
"You'll be lucky!" she said.
After tapping a few keys on her keyboard, she said (much to our surprise), "Oh, you are lucky! There is a seat available on the 14:25 flight on 30-Jun-1993". [To quote Little Britain, The computer says "Yes"!] The Gods must have been with me on that day - it was meant to be! [Remember me saying (above) about my path in life?] There is a reason for everything!
Tuesday, 29 - Jun - 1993
I spent the day packing, and last minute rushing around Newbury (getting last-minute items, such as insect repellent, sun cream, etc.).
At 17:45, on my way to Thatcham railway station, I called in to say "Goodbye" to (the late) Christine. She asked if I had a lift to the station; I said that I was walking. So she said "Jump in the car" and she took me to the station. I caught the 18:30 train to Reading, then the 19:06 train to Paddington, arriving at my parent's home, at Slough, about one hour later. (The late) Jocelyn and Rob gave me a call that evening - which was a very thoughful parting gesture! "Try the Royal River Hotel in Bangkok" they said. They stayed there for ~£25 per night in April, on their way back from a holiday in Australia. At those prices, it could be a lavish and economical trip!
Duh! I later realised that the £25 price was a 'stop-over' price! Oh well, it sounded good at the time!

Wednesday, 30 - Jun - 1993
Before leaving my parents home (at Slough), I posted a letter to Leslie in Toronto. Coincidentally, a letter arrived from her yesterday; I've heard of cutting things fine! After saying goodbye to my parents, I walked to the bus stop to take a bus to Heathrow Airport, arriving there at about 11:45. I was booked on flight BA 031 to Hong Kong, departing at 14:25, so I was in plenty of time.
Surprisingly enough, the aircraft left the gate at precisely 14:25! The Boeing 747 was nearly full, but for the 12½-hour flight, there was a vacant seat between me and a teenage girl student. She was travelling to spend seven weeks of summer with her father on one of Hong Kong's many islands; lucky girl (I thought at the time!).
---
Click to reveal a Home Page QR Symbol